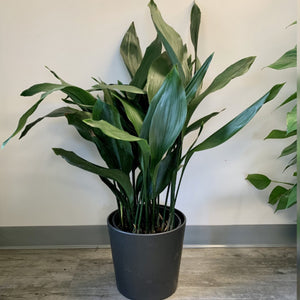 The Cast Iron Plant originates from the lush forests of Japan, China, and Taiwan, where it thrives under dense canopies of trees. In the 1800s, the plant captured the attention of explorers who brought it to Europe, where it quickly became the "it "plant due to its robust nature and ability to withstand neglect and low light. Aspidistra can be seen in photography and artwork during the Victorian Era. 
CARE:
This plant tolerates various light conditions but tends to do best with medium-bright indirect light. A few hours of MORNING sun is beneficial, but avoid prolonged exposure to direct afternoon sunlight, which can scorch its leaves.

Allow the first 1/2 of the soil is dry before watering- overwatering can quickly lead to root rot.

Not picky about humidity - but if you observe browning tips on its leaves, this is likely an indicator that its environment is too dry.
 Decorative pot is sold separately