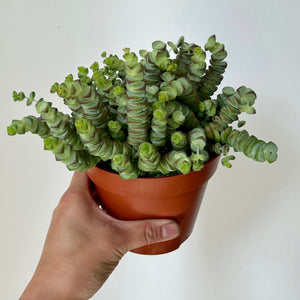 The Crassula marnieriana effortlessly captures our attention with its plum trailing growth pattern. Its captivating appearance and easy-care nature make it a favourite among succulent enthusiasts. As this plant receives more light, you can observe the development of a red/purple hue on its dainty leaves. 
CARE:
This plant does best with consistent bright, indirect sunlight. A few hours of MORNING sun is beneficial, but avoid prolonged exposure to direct afternoon sunlight, which can scorch its leaves.

Leaves can develop a red/purple tint (usually concentrated at the tips) with prolonged exposure to light-this is normal!

Allow the soil to dry out completely between waterings, then give it a thorough drink-bottom watering is recommended. 

Avoid overwatering and ensure the pot has drainage holes to prevent waterlogged soil, which can quickly lead to root rot.

Avoid using heavy potting soils or soils that retain too much moisture, so opt for a 

well-draining, gritty potting media.